REACH A CAPTIVE AUDIENCE
With Digital Out-of-Home Advertising
Promoting Communities ➔ Special Events ➔ Brand Building ➔ Employment Ads
The Journal TV Network offers options for communities to display promotional videos. Businesses can utilize this opportunity to gain brand awareness while customers are shopping at the local hardware stores, dining at local restaurants, working out at fitness centers, or renewing their license at the local DMV.
The Fillmore County Journal (located in Preston, Minn.) newspaper launched the Journal TV Network in 2022 to help promote local events, businesses, birthdays, graduations, retirements, anniversaries, sports and news specific to the region.
With local content updated from the local newspaper every week, the fresh content encourages viewers to see what's new on the screens every time they visit each of these high traffic locations.
The network is growing each month, adding more screens and more opportunities to promote communities, people, and businesses.
Advertising
Expand your advertising reach to a captive audience with a 15 second professional and high quality ad that will be seen many times each day in multiple host locations. These ads are ideal for various types of businesses, communities and events.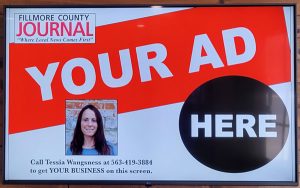 Screen Host Locations
The Journal TV Network has partnered with local businesses (host locations) to display TV screens for their customers to view local content such as high school sports, birthdays, retirements, anniversaries, and other local news relevant to the communities they serve.